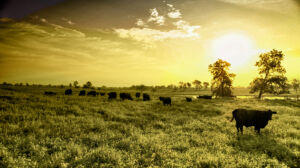 4 PASTURES CATTLE COMPANY
4 Pastures is a co-op of farms located in Midwestern, USA.
Established in 1976, the partnership has provided quality meats for over 45 years.
Our Black Angus cattle are raised in the midwestern plains, pastured in large open fields and fed a 100% vegetarian diet. Our grain-fed cattle are corn-finished for 120 days which creates fantastic marbling and tender, flavorful beef. Our grass-fed beef comes from cattle that are 100% grass-fed and finished.
Like all of our products, our beef is antibiotic, steroid, and hormone-free. Our cattle are certified by the USDA as raised and fed through operations that provide a low-stress environment. The facilities are designed by world-renowned animal care experts, and prioritize delivering access to fresh, clean water and adequate shade and shelter.
All of our beef (except ground beef) is aged in-house and trimmed to exacting standards. This allows consumers to leave almost nothing on the plate after a great meal.
Members of the 4 Pastures Cattle Company co-op produce Black Angus Cattle, and the proprietary Black Angus genetics are verified from each ranch. All calves are born on the farms or ranches of our members.
4 Pastures offers both grain-fed and grass-fed beef. If you finish with grain, please describe your process. What grains do you use? How long? Are they GMO? Do you use grains exclusively, or in combination with grasses or pasture grazing? Non GMO, ABF, Steroid and Hormone Free. Diets developed by Animal Nutritionists
Our grain fed cattle are Corn finished for 120 days, and fed an all vegetarian diet – NO GMO feed ever.
All of our cattle graze on alfalfa, clover and orchard grass, and our farms operate all year.
Herd Management
No antibiotics
No growth hormones
No implants
THE PRODUCTS
Ground Beef – 80% Lean, 20% Fat
Beef New York Strip Steak
Beef Tenderloin Steak
Beef Ribeye Boneless
Beef Top Sirloin Steak
Beef Rib Steak Bone-In
Beef Flat Iron Steak
1/3 LB Ground Beef Patties – 80% Lean, 20% Fat
Beef Tri-Tip Roast
Beef Chuck Roast
Beef Brisket
Beef Brisket (Flat)
Beef Tenderloin Tips & Tails
Beef New York Strip Steak (Vein Steak)
Beef Picanha
Beef for Stewing
Beef for Stir Fry
Beef Cowboy Steak
Beef Brisket (Point)
Rump Roast
Skirt Steak (Inside)
Skirt Steak (Outside)
Beef Short Ribs
Beef Tomahawk Steak
Beef 3-Bone Rib Roast
Beef 4- Bone Rib Roast