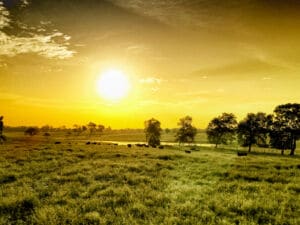 PANDO FARMS
Located in Pando, Urugay, Pando Farms has been in operation for 66 years, since 1955.
Frigorífico Pando is located in Pando city, Canelones department, 18.5 miles away from Montevideo, capital city of Uruguay.
Uruguay is a small South American country, between Brazil and Argentina. It has its east cost on the Atlantic Ocean. All of its area is constituted in the region known as the Pampas in South America.
Pando Farms is part of MERCOSUR, the fourth economic block of the world, and the main herd at the international level. Born in 1955, it remained focused on the Uruguayan market until 1992. At that time Roberto Urgal and Daniel Passanante became the directors of the slaughterhouse and decided to expand horizons, reaching international markets. They took pride in constant renewal and continuous improvement.
Due to new technologies and process improvement, Frigorífico Pando has been able to export to markets with high exigencies since 1996. The plant currently has all the required qualifications, including the exportation to all of the markets with which Uruguay has sanitary agreements.
Pando Farms raises primarily Angus and Hereford cattle. Documentation is provided for all cattle under programs of verification.
Pando harvests 170,000 animals a year and 20% of them are their own. Each and every one of the cows that Pando exports are born, raised and slaughtered in Pando. The typical finished age is 26-30 months and weight is 1,000 pounds for steers.
All cattle are grass fed and allowed to roam freely. Grass types include Grasses are ryegrass, clover and alfalfa. Some are grass finished as well, while others are grain finished, using corn, soy, barley and wheat. The grains are provided to the animal for an estimated period of 3 to 6 months and these grains do not contain GMO.
We rotate our herd once every 5 years, and we typically maintain 1 head of cattle per hectare. By law in Uruguay, all farmers must carry out sustainable rotations to maintain the land. Everything is controlled by a national body of the country.
With our grain finished cattle, we operate year around.
Herd Management:
Our herd is vaccinated for foot and mouth disease, as well as for clostridium.
The use of antibiotics is prohibited by law, and only used under veterinary prescription.
The use of growth hormones and implants are both prohibited by law in Uruguay.
We call it "open sky" or "free range" at Pando Farms, where we have the size of 2 soccer fields available for each head of cattle.
THE PRODUCTS
Beef New York Strip Steak
Beef Tenderloin Steak
Beef Top Sirloin Steak
Beef Ribeye Steak
Beef New York Strip Steak (Vein Steak)
Beef Tenderloin Tips & Tails
Beef Tri-Tip