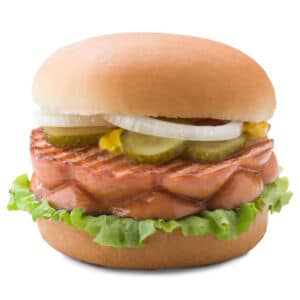 ROUND DOG
Everything you love about a hot dog, in the shape of a burger!
As with all things, the hot dog would someday require an answer to, "How can we make it even better?" That's what motivated us to develop, The Original Round Dog. Now, we're proud to introduce the world to the next generation of hot dogs.
It all begins with select cuts of meat that're hand-trimmed, and after being chopped, to just the right consistency, and seasoned, it's stuffed inside a European-style casing before it's smoked, slow-cooked, and chilled. Once cooled, we slice the Round Dogs into individual portions using our patented technology that creates a wavy design–we call 'em, "Flavor Ridges."
The unique design of the Round Dog makes cooking them super easy–no chasing it around the grill like you would with a traditional hot dog! And since more surface area is exposed to the heat, you'll have a perfectly flavorful Round Dog every time.
The additional surface area also means there's more room for you to pile on all your favorite hot dog toppings. You can build a Round Dog the same way you would a burger (try topping it with mac & cheese or pulled pork!). The Flavor Ridges help the toppings stay on, rather than dripping off and creating a mess.
To put it simply, the Round Dog is, "everything you love about a hot dog, in the shape of a burger."
With curiosity, determination, and high-quality ingredients, we're excited that we can share with you a tasty and convenient twist on the hot dog that transcends the norm. The Round Dog gives you a whole new way to expand your love for hotdogs, with a new modern day twist. The only question to answer is;
"Are you ready to Round Dog?"
THE PRODUCTS
Black Angus Beef
Pork & Black Angus Beef