Dan Luber has 14 years of experience in the food industry, but his passion for cooking began long before he took on his current role as executive chef of Center Square Tavern in Swedesboro, New Jersey. His father has always been a cook and started Chef Luber on his culinary journey at just 13 years old.
"I landed my first job at a restaurant and that's what I've done ever since. It's not all I know, but it is what I love."
– Executive Chef Dan Luber, Center Square Tavern
Chef Luber attended the Art Institute of Philadelphia to further his culinary studies before taking on chef positions across central and southern New Jersey including Salt Creek Grille in Princeton, The Chop House in Gibbsboro and Redstone in Marlton. Each establishment prepared him for a different aspect of his executive chef position at Center Square Tavern. Salt Creek was an upscale scratch kitchen, Chop House is a traditional steakhouse and Redstone is a high-volume grill.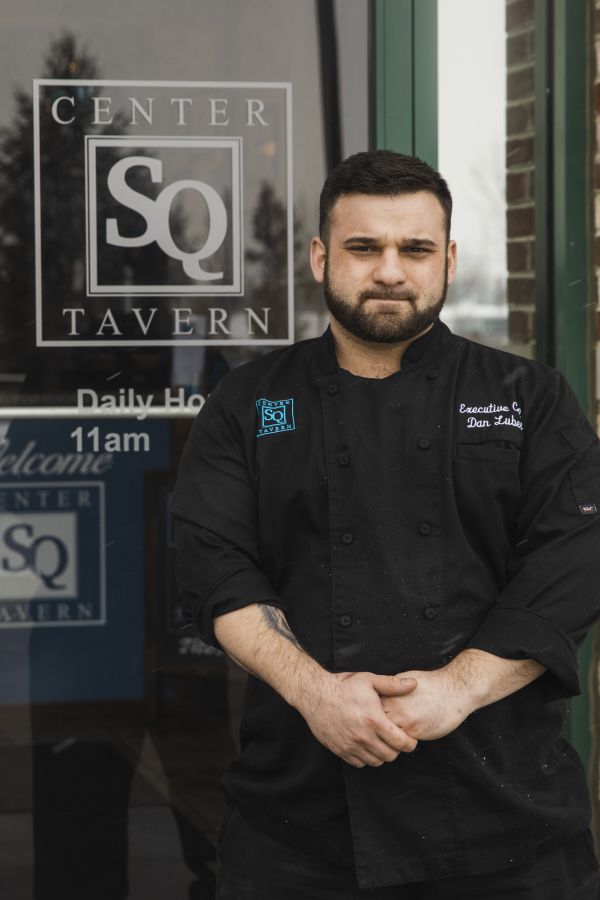 Center Square Tavern, opened just over a year ago and is a scratch kitchen, combining a modern grill menu with traditional steakhouse sensibilities.
"We make everything in house, including sauces, soups and dressings, as well as hand-cut fries," says Chef Luber. "We converted our freezer into a keg room because the majority of what we serve is fresh."
It's a difference you can taste in Center Square Tavern's delicious food and drinks. Couple that with great service and the restaurant has already established itself as a trip-worthy staple in South Jersey.
"It's fun to work with people who enjoy where they work. The days are long, but if you can get along with the people you work with, it makes it easier."
Long days with an engaged staff mean even more time devoted to coming up with innovative dishes. The seasonal menu at Center Square Tavern goes through two major changes in the Spring and Fall and minor changes in Summer and Winter. Favorites like the tavern's scallop dishes, stay on the menu year-round with small tweaks to reflect the season.
"We'd gone through three seafood companies. We were looking for consistency in size and quality."
The current dish, Porcini Dusted Scallops feature Rastelli Seafood's U-10 scallops (large, meaty scallops with ten or fewer to the pound) served atop a house-made risotto with stock, herbs, lemon, pancetta, asparagus, mushroom and truffle oil. The large scallops make for a hearty, well-balanced dish that has become one of Chef Luber's best sellers.
The scallops are just one of the items that Chef Luber gets from Rastelli Foods Group. Other menu staples include a variety of options for their market fish, various steaks and up to 14 cases per week of Rastelli burgers.
"We get a lot of compliments on the burger. It's a big burger, super flavorful. We add the house-cut fries to it and you're full when you eat that burger – there's no joking about that!"
At Center Square Tavern the menu isn't inherited, it Is created by Chef Luber and his team. Having the freedom to change and flexibility to bring on new items proposed by coworkers – inspires creativity beyond the cooking. So whether it's a staple like the blue cheese stuffed burger, topped with fried onions and blue cheese aioli or a spring upgrade like last year's scallops with tomato jam, basil and lemon beurre blanc, Center Square Tavern is dedicated to giving its patrons the best dining experience in the area.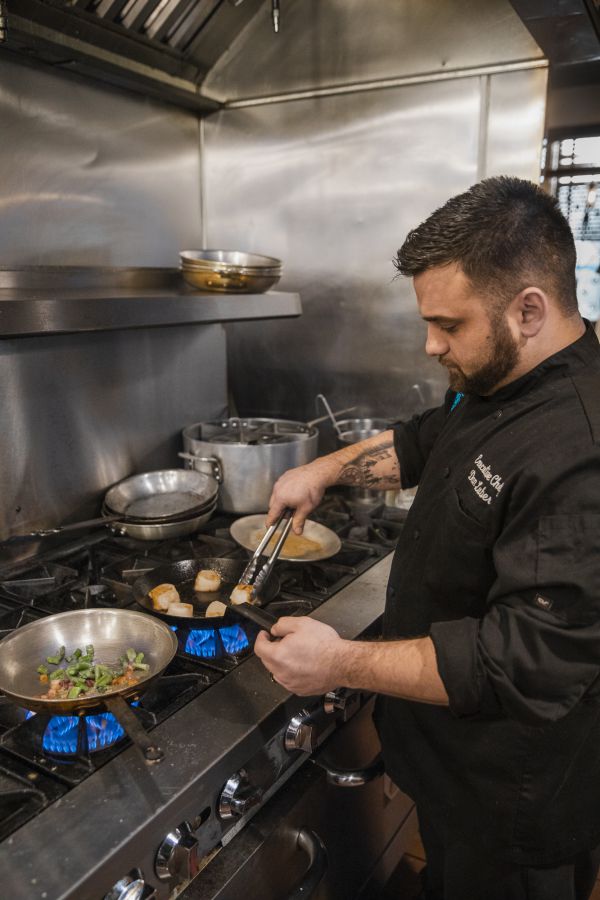 Chef Tip: Make sure scallops are dry, use a hot pan. Minute to 1.5 minutes per side…need a nice golden-brown sear and cook medium rare.